A good road trip is never really ever complete without stopping along the way for a quick snack.
Recently we stopped in for a quick bite at the Lazy B Bar & Cafe in Augusta during a recent road trip and I sorta came away a bit surprised at not only how fresh the food was, but also at just how decent the prices were too.
We ate and had coffee & soda for $24 bucks – There were 3 of us. Me, my wife, and a growing 15 year old. I'm pretty sure that all of what we had would have cost $40+ in Great Falls.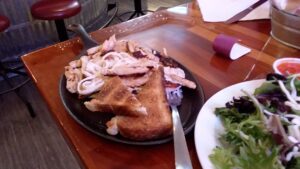 Wife had chicken alfredo with a large salad on the side, our Son had their "B" Dog Bonus (chili sauce, onion & mustard) that must have weighed at least 1/3 pound, with soda and chips, and I had their "B" Dog Kraut with coffee (they served up the whole pot). The Kraut wasn't the soft and slushy kind you would get out of a jar either … it was the real deal.
What's really sort of cool about towns like Augusta is that for some reason, they aren't all up into that "let's charge a bunch of money because we're cool and trendy" deal. The prices are a little more down to earth, just like the people are.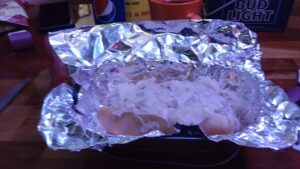 Our Son was pretty stoked about being in, and eating in, a bar (it was his first time). "Not everyone that goes to a bar is there to drink", I said to him …. "far from it. I used to go to a bar just north of Missoula when I lived down there because it had the best fried chicken on the planet."
I think one of the reasons why some bar food is the best, is because the people running the bar don't worry about it. They make way more money on the booze they sell. So much so that the food might even be considered a loss leader.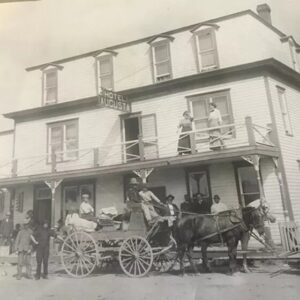 Another cool thing about the Lazy B Bar & Cafe is that the building it's in was built clear back in 1883 and was once The Augusta Hotel. The original townsite was dedicated on May 8, 1893. And not to put too fine a point on it, the building that houses the Lazy B Bar & Cafe is actually older than the town itself. The most accepted version in the naming of this town is after Augusta Hogan, thought to be the first child born in this town, the daughter of J. D. Hogan, an early rancher.