Thought to take advantage of this latest Chinook we were having, so we piled into the truck and headed out for Augusta.
When we got to Augusta, we kept on going, west, up the Sun River drainage to Gibson Reservoir. Aside from a few ranchers doing their late afternoon feeding of livestock, and the FWP, we pretty much had the place to ourselves.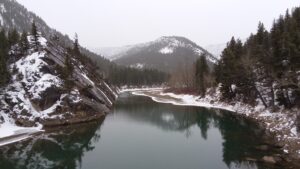 It was a fairly short drive as Montana drives go, and there was barely any snow. I had been up to the Hannan Gulch Bridge before during the winter, and there was always seemingly much more snow. This time the snow was just inches deep and we drove right in.
My Android phone isn't known for taking the best pictures, but for some reason the ones I took today turned out fairly decent. It's a Samsung J7, so it might be a bit dated when it comes to pictures. One day maybe, I'll muster the fortitude to upgrade. Our Son's phone is an LG (Android) and it takes way better pictures, and does video really well too.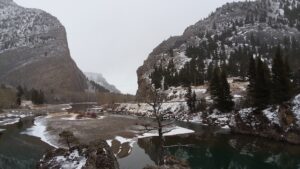 Because there was such a lack of snow, we decided to drive further up the road. We eventually went as far as the end of the road at Mortimer Gulch above the reservoir.
The area was full of mountain goats, white tail, and mule deer. No bears of course, because … you know … February.
Since it's the time of year that it is, the dude ranches all seemed quiet and tucked in. I guess the city slickers aren't all up into doing the dude thing when it's so cold, and I'm pretty sure that the dude ranchers are all sitting comfortably on the beach in margaritaville somewhere. (the actual temp up there today was 37 degrees)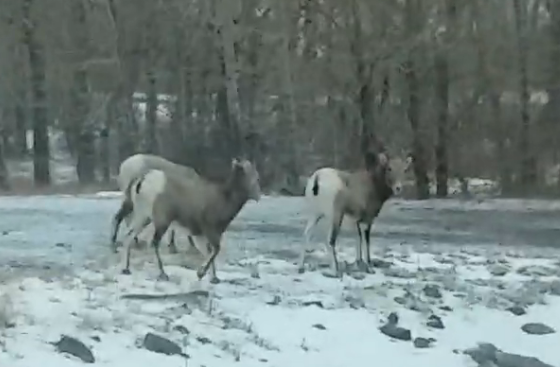 Whenever I hear people talk about chasing around in Montana, whether it be camping or hiking, it always seems that the headwaters of the Sun River never gets a mention. Just as well I suppose. The dude ranches all seem to do fine during the summer and fall. Plenty of camping, hiking, and fishing. I hate to say it, but the fishing is actually better up at Sun Canyon than the fishing on the Blackfoot is.
Hannan Gulch Trail:
Trail Begins: Road 8983
Trail Ends: Upper Hannan Gulch
Hannan Gulch Trail  follows an old seismic road most of its distance and is easy hiking. The last mile becomes moderately difficult. The gulch is open allowing for good views. Castle Reef rises impressively along the eastern side. The western ridge separates Hannan Gulch from Blacktail Gulch. Bear, deer and bighorn sheep inhabit the area. Trail vehicles permitted. Obtain a Forest Visitor's map to determine any travel restrictions.
Road trip gallery: