Settled in the 1860's, Pony was a prosperous gold-mining community with at least 5,000 residents. Mining operations declined in the early 20th century and all were closed by 1922.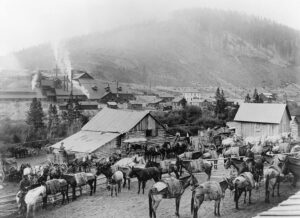 The town gained its name from the nickname of one of its early miners, Tecumseth Smith, a small man nicknamed "Pony" because of his diminutive size.
A number of historic buildings from Pony's boom era remain in the old town today. Major buildings are managed, voluntarily, by The Pony Homecoming Club, a non-profit organization that maintains the town's public spaces.
Gold mining in Pony between 1870-1880 was profitable.
Five million dollars in ore was taken out. An eastern syndicate believing a large deposit of ore was high grade, built the 100-stamp processing Elling-Morris Mill in 1883. The ore body turned out to be low grade and consequently the massive mill never turned a wheel.
In 1920, a tragic fire swept through the main part of town. It destroyed the livery stable and many other buildings. The Morris State Bank and the Masonic Building survived.
Pony, is located on the northeastern edge of the Tobacco Root Mountains at the foot of Hollowtop Mountain.
Nearby, Norris Hot Springs offers guests a soak in mineral water pouring from the earth's depths at 120 degrees. Not far from Pony is the Lewis and Clark Caverns State Park, featuring one of the largest known limestone caverns in the Northwest.
Historic Pony, Montana photos: https://npgallery.nps.gov/NRHP/GetAsset/NRHP/87001264_photos
Directions on how to get to Pony, Montana: https://www.mapquest.com/us/montana/pony-mt-282030066
Attractions/Amenities in Pony include:
Pony Creek Side Cabin — Summer only availability. $125 per night with a two night minimum or $750 per week with $100 for additional nights. May 15 to September 15. 406-685-3488
Aspen Creek Cabin. Daily Rate: $150. 406-570-5401
Ball and Chain Lodging. Bed And Breakfast. 406-949-3428
Albro Lake Trail, Bell Lake Trail, North Willow Creek Trail, Potosi Trail, and Potosi Campground. 406-682-4253