I don't know what it is exactly that gets the blood pumping when it's time to get a new car. Could it be the advertising? The thought of experiencing something new and exciting? The thought of venturing into the unknown?
For all of the different various rigs I've purchased over the years I can safely say that I've experienced all of the flutters of excitement up and down the scale. My latest cause for excitement this time around wasn't really what one would probably expect. I was excited because this particular new car wasn't for me … it was for my dear wife.
Sure, I've given rigs to people over the years for Christmas and for birthdays, that I had originally bought for me in the beginning, but this time around wasn't the case.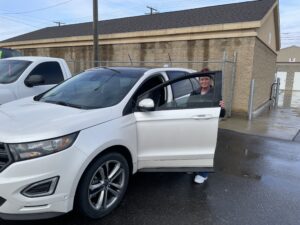 Going out and buying something for someone else without reservation is something everyone should try at least once in their life. The experience of doing that is amazing, and in so many ways, it's better than if you were to actually buy it for yourself first.
At any rate, I don't do that whole traditional car shopping thing — you know — where somebody comes out and tells you what you want. I take my time and decide on a rig. It can take months before before I actually make my move.
My wife's Ford Edge was getting to be a bit rough around the edges (no pun intended), so last year I set about to finding her a newer one. Recently I got a call that produced exactly what I was looking for. The below book price and the less than expected mileage was the icing on the cake so I made the plunge.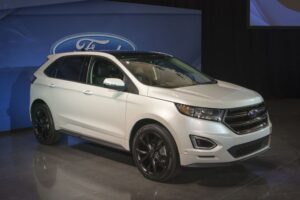 The timing couldn't have been more perfect. With our 24th wedding anniversary just around the corner and short of providing the big red bow, I presented my wife with her new car.
So far as rigs go, this one hits the mark. All wheel drive for our exclusive Montana winters, a nice 6 cylinder engine that helps to climb our beautiful Montana mountains, and a sun/moon roof combination that allows for viewing the Big Sky of Montana when we're cruising down the interstate.
A much better deal than that Ford Raptor I looked at a few years ago that had 160K miles for 46K (Ford Raptors are grossly over rated).
At the time, I settled on our current Ford F150 quad-cab 4×4 … and it's just fine without all of the over-the-top truck body extensions that the Raptor's are so known for.