Had an occasion recently to visit the Burger Bunker here in Great Falls at 24 5th Street South.
Upon after getting dry burgers at places like Tracy's and the Halftime, I was somewhat surprised to learn that the Burger Bunker burgers were anything but dry. The condiments were piled on generously by default, along with onions, tomatoes, pickles, and lettuce.
The breaded fries were sort of an added bonus.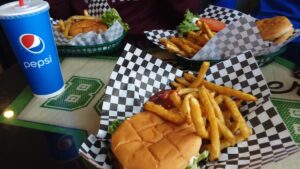 The burgers came to us in the classic burger style served up in little baskets that included the fries — Sort of like how they did in the olden days. The young aged crew were helpful and courteous.
The burgers all have their own names, like "The Malmstrom", "The Sherman", or "The Desert Fox" for instance. Each one has it's own somewhat unique toppings and sauces.
I know that a lot of these places around town have their reviews left on places like Trip Advisor and the like, some reviews are good, while other reviews are not so good. In the case of the Burger Bunker however, the reviews are as advertised. Trying some of these places out first hand is usually the best way to learn about them though.
Stop in to the Burger Bunker and take the challenge:
Food Challenge – The General
2 Malmstrom burgers, side of fries, and side of Onion rings. Finish in 20 min or less and it's free, fail and it costs you $19
Burger Bunker hours:
Sun 11AM–6PM
Mon 11AM–8PM
Tue 11AM–8PM
Wed 11AM–8PM
Thu 11AM–8PM
Fri 11AM–8PM
Sat 11AM–8PM
Phone: 406-952-0130 – (tap number to call from your smartphone)
You can visit the Burger Bunker website here: https://www.burgerbunkermt.com/
You can visit the Burger Bunker menu here: https://www.burgerbunkermt.com/menu/