Who remembers the old Compaq Presario SR1610NX?
Finished this Compaq Presario SR1610NX up tonight — circa 2005, it's in totally mint condition and sports an Intel Pentium Dual Core E2200 processor @2.20 GHz 64bit (threw a 500GB HDD into it just for good measure)
Operating system is the Microsoft Windows 10 Professional 21H1 build 19043.1202
Compaq computers are still around. The ancient, older than dirt units can be found in places like Newegg and Ebay going anywhere from $35 to $70 (with $70 shipping of course) that contain all of the original hardware and software.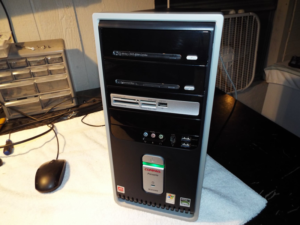 I got this Presario from a kid that works at Albertsons, who studies computer sciences at our local college. I think I gave him $30 for it, and it came with all of the original components, including a licensed version of Windows XP with a recovery partition, in tact, on the original IDE 70GB HDD.
The case, as you can see, is in stellar condition. No scratches, wear, or other signs of extensive use.
This box sat on my shelf for quite a while because I wasn't quite sure what I wanted to do with it.
I'll take in old, run down units from people (sometimes I'll purchase for the right price) on occasion, so I've got plenty of perfectly good components laying around collecting dust.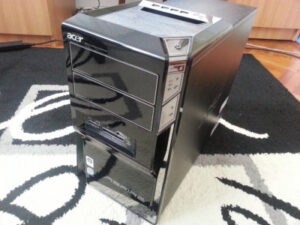 The other day I was wondering what I wanted to do with this old Acer desktop box I had. It was pretty beat up and it didn't have a very practical design.
I had installed Microsoft Windows 10 on it and left it at that.
Acer was never really in to producing attractive units, and boy-ole-boy, this Acer box was uglier than a mud fence … even with Windows 10 installed, I figured that it would be a pretty hard sell just on account of it's looks, or rather in this case, lack of looks. A 1963 Dodge truck came to mind every time I looked at it.
Not too unlike someone putting a 327 cu. in. Chevy engine into an old 1950's International pick up truck, I pulled the hardware out of the old Acer and put it into the Presario case.
I also installed a NVIDIA GeForce GT 730 video card (DVI, VGA, HDMI). The motherboard from the Acer unit also has on-board HDMI, but I've found that running HDMI through a video card always works out better in the long run. (video card uses it's own RAM and spares on-board RAM for other things)
I also added TP-Link Wireless WI-FI @150mbps to it because, who needs wires anyway?
This box build doesn't have UEFI/BIOS or any TPM, (I could install a separate TPM 2.0 module to run bitlocker) so there's no way it will ever run the new Microsoft Windows 11 due to be released October 5. But with that being said, It's a unit that will run any Windows 10 build from now until 2025 when Windows 10 reaches EOL.
I'm still not exactly sure what I'll do with it. It's a rather nice unit. I'll probably fire it up on occasion and just look at it … take it for a spin around the internet once in a while. You know — sort of how we do with our classic cars.
Happy trails
Thanks for the read.