Last year, I had the opportunity to meet Pinky Lee Morgison while traveling via Greyhound from Beaumont, Texas to Great Falls, Montana to get my wife's car.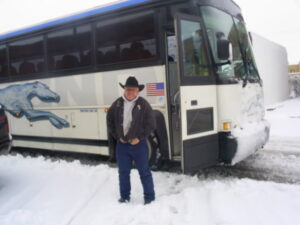 Pinky and I rode together from Dallas to Denver in 2010, (I took his photo in New Mexico, one of but many stops along the way) and what stories there were to be told during the trip. I quietly sat and listened to Pinky as he talked of his many life's experiences .. in the stockyards, cattle shows, and livestock auctions .. there was Pinky .. ready to do the job that most would not.
The Rocky Mountain News did a write up on Pinky in January 2006 .. here are a few excerpts:
"He borrows a pitchfork from an obliging rancher – "There's a lot of nice folks out here, yessir" – makes a U-turn and heads for a remote area down past a parking lot full of large pickups and just across the railroad tracks where two young women are grooming cattle.
He pulls out a slip of yellow paper from the pages of a pocket Bible that he can't read. On the slip some numbers are written – designating the area where Pinky is supposed to make some beds for the cattle. Pinky knows his numbers and finds the spot." ~ Rocky Mountain News
"Bits of straw glint golden in the afternoon sun as they cascade from the pitchfork. Pinky doesn't deviate from his routine: Remove the rope, hang it on the fence, briskly attack the bale, feather the straw along the fence. He's done in an hour." ~ Rocky Mountain News
I've met some pretty incredible people during my travels over the years, and Pinky rated top shelf in my book.
——
UPDATE:
Ronald "Pinky" Morgison, age 73, of Federal Heights, Colorado passed away on Tuesday, January 18, 2022. Pinky was born September 25, 1948.