Had the opportunity to visit Neihart this Labor Day weekend to attend the I Heart Neihart Festival.
There were quite a lot of doings going on including their annual duck race. 8 bucks got our son a duck to enter into the race that started at noon.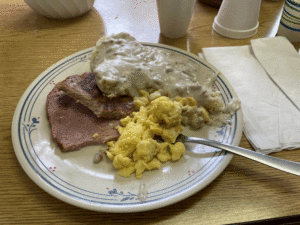 Our day at the "Duck" races started off with breakfast for 10 bucks at the Monarch-Neihart Community and Senior Center. Although there was no Bacon, we did tank up on Ham Steaks, Patty Sausage, Scrambled Eggs, Biscuits and Gravy, French Toast, and Pancakes. Orange Juice and Coffee were also served.
The line for breakfast was pretty long when we first got there and parking was somewhat at a premium too. After finding a place to park, we joined the long line that stretched from the door clear into the middle of the gravel parking lot. The wait time for us was about 45 minutes, but it was tempered greatly in a good way by the great conversation with others who were in line. We talked about everything from real estate, to quads, to mustaches.
Once we got in the door, the line extended for about another 16 feet before we were able to actually pay and be served. I was surprised at how small the dining area was when we got in there, and the way things were organized by the Senior Center volunteers, everything seemed to go off without a hitch. There were even real plates and real silverware too.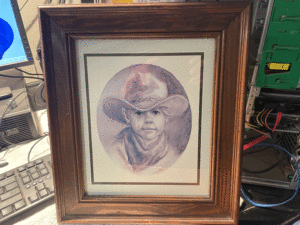 Once we finished breakfast we wandered down the hall to the rummage rooms — two rooms filled with all sorts of stuff. From old military canteens to framed wall pictures, to clothes, to just about anything else you could imagine that might go into a home.
Of course we had to buy something so buy something we did. Everybody got a bit of something they liked and then we left the community center and headed off across the highway to purchase a duck that our son could enter into the race. He preferred the yellow duck with the pirate hat so that's what we got.
We left our car parked at the community center and walked down the highway toward where the finish line was for the duck race.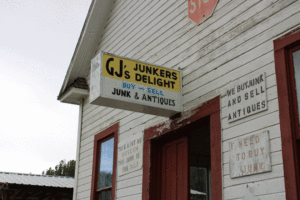 During our stroll we became somewhat distracted with GJ's Junkers Delight … a junk store that was located along the way. Of course we just had to go in there. Here again was a store loaded up with all kinds of stuff.
I didn't get anything, but the wife and son did. Wife found another porcelain doll for her collection, and our son bought, among some other things, a rusted old horse shoe. When we got home, he added the old horse shoe to his ever burgeoning collection of other old stuff.
I guess it was sort of a good thing that we stopped in at GJ's Junkers Delight, because this would be the last day of business before he closed for the winter.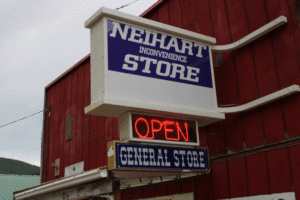 When we left the junk store, we ventured on down to the Neihart Inconvenience Store for a soda. This store had just about everything from minor plumbing parts, to extension cords, to heat tape, and of course, multiple types and kinds of munchies and sodas. I didn't have any light plumbing to do, so I settled for the multiple types and kinds of munchies and sodas.
When we were finished at the Neihart Inconvenience Store, we wandered on over to the Johnston street bridge behind Bob's Bar where the finish line for the duck race was. During the race I kept an eye out for our son's entry, but there were so many little rubber ducks floating down that I didn't see it. We didn't really check to see if his was one of the literally hundreds of ducks that might have placed within 50th place of the first ducks, but it was still a great time.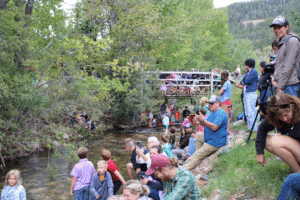 We did get a bit of rain, but it sure didn't dampen the enthusiasm of the events we attended.
I kept hearing people say that the crowds were unusually large compared to years previous.
Probably a good thing I think, because Neihart and Monarch are cool little towns that deserve all of the support that we can give them. When we were there we ran into people from White Sulphur Springs, Lincoln, Fort Benton, Helena, and of course, Great Falls.
As far as many of the regional events we have in the area, I think the "I Heart Neihart Festival" rates top shelf on my list of events. I encourage all to be sure to attend.
Great times with Great people.