You really never know what you've got 'til it's gone.
With that in mind, I'm thinking of the Park and Ponder Coffee House that used to exist at Gibson park here in Great Falls.
The Park and Ponder, though small, was one of the things that made Great Falls great.
Sometimes less is more. Some folks here in town are so worried about making Great Falls great, that they're letting the things that actually did make Great Falls great slip right through their fingers.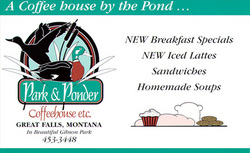 The food at the Park and Ponder was actually better than the cardboard flavored stuff you might get up on 10th Ave South — It had a calm cozy atmosphere and the staff were always helpful and friendly.
In the description on Travelmt.com it says, "The Park and Ponder Coffeehouse allows our guests to enjoy nature in the heart of the city. Customers can sit outside on the deck while the children play on the nearby swings and slides. Full breakfasts and lunches are served seven days a week . Wednesday evening we serve dinners while the Municipal Band plays in the band shell".
It goes on to say, "The Park and Ponder Coffeehouse etc. is located in Paris Gibson Park. A large pond, home of ducks, geese and swans, is situated in front of the coffeehouse and provides a pleasant relaxing view for our diners. This beautiful city park is the pride of Great Falls and a must see park."
The listing is still posted on the site, so I would suppose that some tourist is going to be doing less pondering and more wondering about just where in Gibson park the Park and Ponder Coffeehouse is located when they get here.
The video below is from early spring 2008 at the Park and Ponder when Dustin was only 2 years old