A Montana State University researcher who has spent more than a decade developing an innovative radiation-tolerant computing technology for spacecraft will give a presentation at the Museum of the Rockies on Wednesday, April 19, as part of an ongoing lecture series.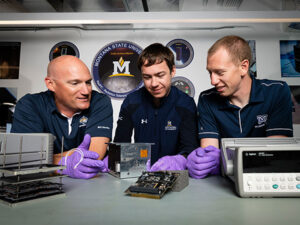 Brock LaMeres, professor in the Department of Electrical and Computer Engineering in MSU's Norm Asbjornson College of Engineering, will speak about NASA's need for specialized computers for its missions and the development of an MSU computer that will travel to the moon in 2024. The talk, which is free and open to the public, begins 7 p.m. in the museum's Hager Auditorium.
The talk is part of the 2023 Science Inquiry Series, which is sponsored by the Gallatin Valley Friends of the Sciences and the nonprofit community service organization Hopa Mountain. The series explores cutting-edge science topics, their latest developments and their relevance to society through speaker presentations followed by question-and-answer sessions.
A schedule of upcoming lectures is available at gallatinscience.org.
Contact: Brock LaMeres, 406-994-5987, lameres@montana.edu.