A road trip up the Yellowstone River wouldn't be complete if you didn't stop in Gardiner for a neat snack.
Due to the closure of the north entrance to Yellowstone National Park because of the road being washed  away due to recent flooding, our choices for places to eat were somewhat limited. When we got there, we settled in on the Cowboy Lodge & Grill Restaurant.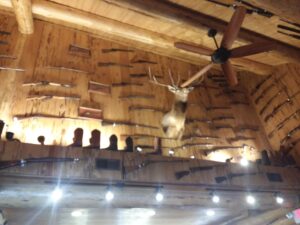 If you're in to the old west and it's history, then this might very well be the place for you. Antique guns were affixed to the ceilings and real life genuine westerns played on the TV.
It was an abnormally slow day so we were able to seat ourselves.
When our server came around with the menus, both I and the wife ordered up regular cheeseburgers and our son thought to give the Bison burger a go.
I understand tourist towns, and usually wink at some of the prices, but a cup of French something coffee was $4 so I took a hard pass on that. I'm more of a "real" coffee drinker anyway, and besides, I had a couple of Flathead Valley Cherry flavored waters out in the truck that I wouldn't have any trouble getting back to when I was done eating.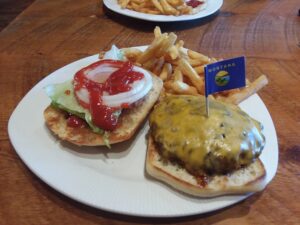 The food came round in about 15 minutes. Each burger had it's own related little flag on top which I thought was a nice touch. I could imagine someone from Germany holding on to that little flag forever as a memento of their once in a lifetime trip to Montana and Yellowstone National Park.
After we got our food, I was somewhat disappointed at just how hard the burger was to chew .. I eventually ended up snagging up on a fork in order to cut the meat. It reminded me of those times when my wife adds too much bread to her meatloaf. The taste of the cheeseburger was over all underwhelming.
I asked the server if the burgers come in pre-cooked and then microwaved to fill the order. He said the burgers were cooked in the morning in advance of opening and are left to marinate. It was 5PM in the afternoon by the time I had ordered the patty which had been pretty much sitting since the early morning.
Had trouble with the burger, but that won't prevent me from ever going back, as I'll just order something different that might have to be made fresh.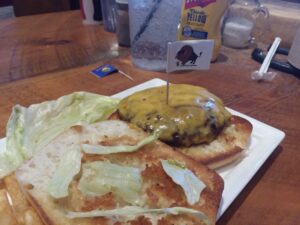 Our son loved his Bison burger, said it was easy to chew and tasted great. I don't think they prep the Bison burgers too early or even at all. I'm guessing that they are made fresh. I'll have to give it a shot next we're in.
I wasn't at all surprised that the service was prompt and friendly because that's pretty much how we do things here in Montana.
Heads up on the menu though. The online menu is different than the actual menu at the restaurant. The online menu sports some lower prices.
The tourist tax we were charged was 2.7% which is less than what the tourist tax in St. Regis is, and there is a 4.8% service charge on credit/debit cards, so cash is your friend in that case.
The Cowboy Lodge & Grill is located at 208 Stone St in Gardiner
Their phone is +1 406-848-9175
Their website: https://www.cowboyslodge.com/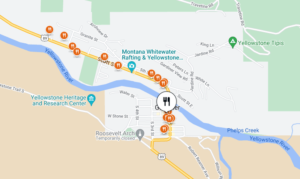 If you would like to drive down to Gardiner in order to help support them with regard to the loss of tourism dollars this year, then that would be great. Be sure to call The Cowboy Lodge & Grill first to be sure it is still open. Many of the other restaurants and hotels were closed when we were there on account of the road being closed between Gardiner and Mammoth Hot Springs.
Online Menu