Last month I promised our son that if he passed the test and got his drivers license that I would take him to the 3-D International Restaurant over in Black Eagle for a snack.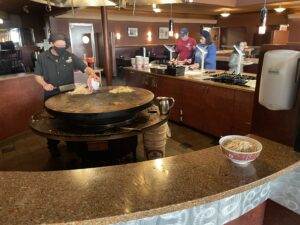 Well he passed the test and the next day we were off to the 3-D's Mongolian Grill. First opened in 1946, the Mongolian Grill at the 3-D is and has been a local and regional favorite for years.
What's really cool about the Mongolian Grill is that you can pretty much design your own stir-fry. You can select from any number of ingredients — Beef, Chicken, Pork, and Shrimp — Assorted condiments from Sweet-N-Sour, to Soy Sauce, to Oyster, and more. You can add any assortment of vegetables as well, from Water Chestnuts to Broccoli. You load your bowl up with noodles along with your selected meats and condiments, then you hand it off to the cook and he'll stir-fry it all right in front of you.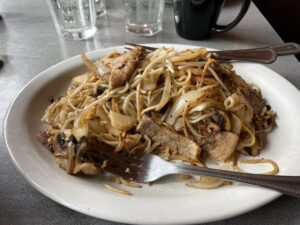 The prices at the 3-D Mongolian Grill are fairly modest. $12 bucks for lunch, and $17 bucks for dinner, gets you all you can eat, so going back for seconds and even thirds lets you try different meat, condiment, and vegetable combinations.
I'm sort of a Water Chestnut and Onion kind of guy, so my plate wasn't nearly as colorful as the wife or son's plates. Even still, for $12 bucks (we went at lunch) the all you can eat at the 3-D Mongolian Grill is an absolute bargain no matter what.
For those who may not be in the know about the 3-D International, here's the scoop.
The 3-D International is a family owned and operated full service restaurant and lounge that features the Mongolian Grill food in Black Eagle, MT
The 3-D International menu includes: American Cuisine, Angus Prime Rib, Chicken Dishes, Homemade Italian Cooking, Mongolian Grill, Seafood, Steak, Appetizers including salads, sandwiches, and soups.
The 3-D International also features a full bar, wine selection, children's menu, and a fully equipped party room for up to 100 guests.
The 3-D International is located at 1825 Smelter Ave in Black Eagle, Montana and they can be reached by phone at (406) 453-6561