While the wife and I were out and about yesterday, we decided to stop in at 2K's Kafe for a quick bite.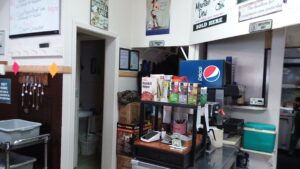 In this day and age of gluten/fat free, processed sugar, and ingredients shipped from across the country, it's always nice to walk into a place that smells like childhood memories. We never ate out much when I was a kid. Sure, we might have gone to A&W on certain occasions, but what made the most impact on me back in the day, was stopping in at the roadside diner while we were on a road trip.
I sort of feel bad for the folks who seemingly blow through town on 10th Ave South heading to wherever they're heading to, because nothing on 10th Ave South can ever compare to the greetings, taste of the large portions, and the fair price that 2K's Kafe has to offer.
Tucked away in our fair town of Great Falls, Montana is 2K's Kafe, located at 406 3rd Ave South. In an area of town that most would never care to notice, is one of the best little restaurants you'll find in Cascade County.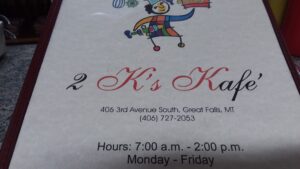 Wife and I got in there at about a 10:45 AM – 2K's doesn't start serving lunch until 11 AM, so we opted for a couple of omelets. I got the Western, and she got the ham and cheese. They say that these omelets are 3 egg omelets, but considering just how large these omelets were, I think the whole 3 egg deal on the menu might have been a typo. I've made 3 egg omelets before, years ago when I cooked at 4B's, and they could never match up to the size of the omelets served up at 2K's.
2K's Kafe hearkens back to the days of the Yellowstone Truck Stop Cafe on the Vaughn road. And who remembers the old Double Barrel on Central Ave. or the old Crossroads at the Flying J on Watson Coulee road? Though Tracy's Family restaurant has been re-opened again on downtown Central, it is no where near what it once was as far as taste, atmosphere and price.
If you remember any of these, then chances are pretty good that you'll know exactly what I'm talking about when I mention 2K's Kafe.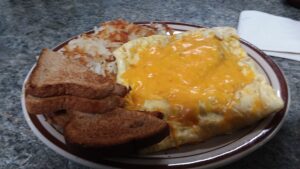 2K's Kafe has large tasty portions that rival the newer so-called chain restaurants on 10th Ave South with hotcakes that are actually larger than the dinner plate they are served on. The cheeseburgers are 4x larger than the cheeseburger you'll get at Tracy's for the same price, and 2K's actually puts mayo on the bun whereas Tracy's does not.
The place was full when we got there, so we were relegated to sitting at the counter, which was no big deal because I had a pretty good yack attack with a 73 year old patron named John, who incidentally was a farmer from just this side of Eden — So the food was good, large, tasty, fairly priced, and I enjoyed great conversation with farmer John.
Wife couldn't finish her omelet (because of it's size) and had to get a go box for it.
2K's Kafe is open from 7 AM to 2 PM Monday thru Friday, and breakfast is not served after 11 AM.