Welcome to Marysville, Montana
During one of our many road trips we recently had the opportunity to pay a visit to Marysville, Montana.
Marysville, primarily billed as a ghost town in the state, surprisingly has quite a number of people living there.
Though there are more occupied buildings than there are abandoned ones, the small town still boasts a few relics from the 1890's that are in various stages of disrepair and decay.
Some of the old buildings have been or are in the process of being repurposed for modern use, like the old train station for instance, that houses the Marysville House Historic Restaurant. At very first glance, one might be hard pressed to imagine the building ever being a train station.
Many of the old buildings that once existed that are pictured across the internet on places like Pinterest and in articles about Montana ghost towns are gone — given way to grassy blank spots where they once stood.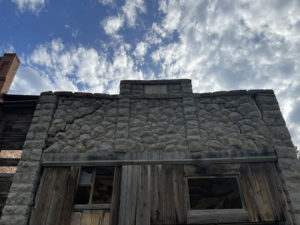 Though I'm not a photographer by any stretch, I did manage to grab a few shots of some of what buildings were still there from the once bustling gold mining days of Marysville.
Our drive over to Marysville was sort of a bonus because we had a 3 hour gap in our schedule between Gates of the Mountains and an Astronomy lecture over at Canyon Ferry. During our late lunch at the Grub Stake Restaurant we decided to visit Marysville which was just a few miles or so up Lincoln Road. If you're in the area and have a few hours to kill, I'd recommend driving over to Marysville for a look.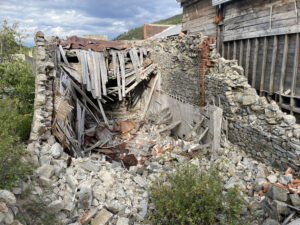 It's somewhat unfortunate that these old buildings are crumbling away like they are. I'm guessing that the march of time is pretty much outpacing the availability of much needed talent and money. Soon I think, what's left of some of these relics from the 1890's are going to have to be totally demolished on account of the safety risk they pose. Some of these buildings are so far gone that no amount of money could probably ever save them.
Another interesting thing that I've discovered while visiting Marysville is that this old car never goes away.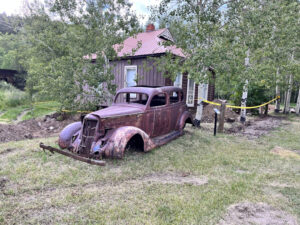 Looking at other Marysville photos on the internet shows this car in different locations, in front of or beside other buildings. It's almost as if this is the only car left in town from a known bygone era and it's placed as if it might be posing exclusively for the tourists that happen to roll through. Another thing I might have to consider here is that this car lost it's garage to the wiles of time and is forever orphaned — subjected to a never ending search for a new garage that it can call home.
The history of Marysville somewhat parallels the history of many other small gold mining towns in the state. Every town has a similar but no less colorful story of how someone came into the gulch, gully, canyon, or flat, and struck it rich with their own lode.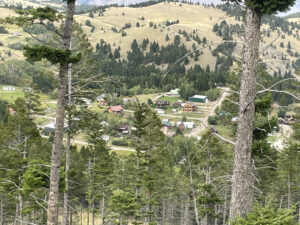 Stories of how Martha Jane Canary was literally everywhere back in the day, including Marysville, Montana. Some Scotsman, Norwegian, or Irishman came to Montana and set about to make history, most times not even realizing it — We do well to revisit that history as often as we can, because if we don't, our history, not too unlike some of the old buildings in Marysville, will fade away into oblivion.
Thomas Cruse was no exception, as far as stories go.
In 1876 he discovered the vein and named it after his native town of Drumlummon, Ireland.
He named the town after Mary Ralston, the first woman to arrive.
During the 1880's and 90's, Marysville was Montana's leading gold producer and had a population of 3,000 people.
Our Son loved Marysville — We tell the stories and show the places to our kids just like our parents did for us, and theirs before them. Montana history won't ever die as long as we choose to keep it alive.