Elkhorn, Montana was founded in 1872 and had a population of roughly 2,500 people by 1893.
The drive to Elkhorn was a good one. Fair weather and a fast interstate found us at the Boulder exit and a short 7 miles up highway 69 found us at the Elkhorn cut-off. 11 more miles up Elkhorn Creek on the well maintained gravel county road and we were there.
Our son is always up for looking at old stuff and towns from the 1870's-90's are at the top of his list.
What's really kind of cool about Elkhorn is that you can actually go into the buildings. You can't go into the buildings at Garnet or Marysville, and interior access at Nevada City is limited.
Fraternity Hall in Elkhorn is huge and was at least 20 degrees cooler inside than it was outside. The cantilevered porch on the second floor, though access isn't allowed, was pretty cool too. I think the upper porch is what really gives the building it's character.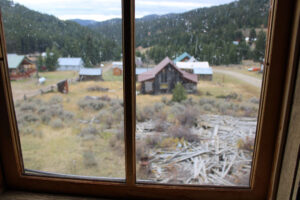 As I looked out the windows, I wondered who else might have also looked out those very same windows in the bygone years and what their thoughts might have been.
Kerosene lighting, pipe or cigar smoke wafting to the 12+ foot ceiling, the sounds of a fiddle or two coupled with a squeezebox, juice-harp, or harmonica with a guitar or banjo accompaniment making their way out the front door as you entered. The sounds of hard soled shoes on the floor keeping time with the music as they danced about.
I know that when I look out those windows, I see a very different world than those folks in the 1890's did.
The cloth-backed wallpaper was pretty cool too. It was fastened directly to the tongue and groove wall boards.
Elkhorn State Park consists of just primarily these two buildings and is the smallest state park in Montana. The state of Montana designated Fraternity Hall and Gillian Hall as Elkhorn State Park in 1980.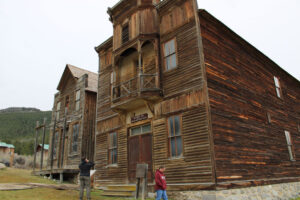 According to Wikipedia, very few standing buildings remain of the original Elkhorn townsite, a number of cabins have been reoccupied and refurbished. In 2010, there were 10 inhabitants.
Elkhorn isn't your standard ghost town as many of the refurbished *original cabins are private and trespassing isn't allowed.
As you drive up Elkhorn street you can see placards with pictures along the way in front of vacant lots that once contained the buildings of Elkhorn. At the end of Elkhorn street is the Elkhorn silver mine. The Elkhorn mine, was one of the nation's richest and longest operating silver mines.
Elkhorn is in bear country (as is most of the state) so keeping an eye out for the bears might be a good idea. There are also no amenities in Elkhorn so if you pack it in, you gotta pack it out.
Want to know more about the Elkhorn State Park?
Simply contact:
Mail to: FWP Region 3 Headquarters, 1400 South 19th Avenue, Bozeman, MT 59718
Phone: (406) 577-7894
Email: mark.filonczuk@mt.gov
Elkhorn Photo Gallery: