4B's was somewhat of a mainstay here in Montana for quite literally years, and depending on where you lived in the state it seemed that there was one on every corner.
I think Missoula had the highest concentration of 4B's restaurants scattered about town.
Recently after attending the Independence Day parade, we all piled into the car and headed for 4B's on the east end of town for a snack.
When I lived in Missoula, 4B's was the go-to every morning for coffee. 4B's had the best coffee.
The 4B's here in town still serves up the original menu.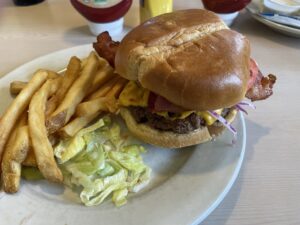 When we stopped in at our 4B's, we all ordered the bacon cheeseburger w/fries — Wife and Son order Pepsi and Dr Pepper with 4B's free refills and I settled for the great coffee that 4B's is so known for.
4B's had been owned and operated by the Hainline family from 1947 until 2007 — Bill Hainline opened the first 4B's in Missoula in 1947. The four Bs were Bill, Barbara (his wife), Bill Junior (son) and Barbara (daughter).
Various interests like Star Buffet Inc. out of Scottsdale Arizona and Town Pump out of Montana have picked up continuing operations of the restaurant chain since about 2007. The Great Falls location is owned by Town Pump and still serves up the original 4B's menu, including their much sought after tomato soup.
There was a time in the not-so-distant past that 4B's garnered pretty much the same kind of name recognition in the state that Town Pump enjoys today.
In the world of national franchises like McDonald's and Burger King, Montana sort of liked to hold it's own with regard to places like 4B's and Town Pump.
Places like 4B's and Town Pump were or are so well recognized that upon returning from an out-of-state road trip you know you're home the minute you see the sign.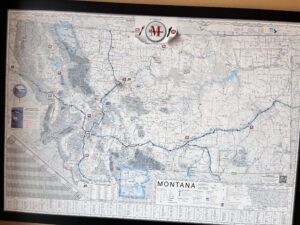 4B's was such a prominent Montana fixture that I used to know where all of the restaurants were whenever I traveled about the state. These days however, I'm not so sure where they all are. When the big shuffle started around 2007 many restaurants were closed or sold off to others. I know that Helena used to have two 4B's restaurants and I think that the Libby location was shut as well but reopened at some point.
4B's still has a presence in the state as the map shows. Since this photo of the map was taken at our Town Pump owned 4B's location, I'm guessing that the locations presented on the map are just the locations that Town Pump owns. There may be other locations owned by others that aren't shown on the map.
Our visit to our local 4B's was a pleasant one — Crowded as usual with a big friendly gnarly biker dude waiting on us. The food came out fairly quickly and was hot off the grill just like always.
If you're in our area and would be so inclined, you can visit our local 4B's at 4610 10th Ave S — (406) 727-3366
As is most always the case, you may have to wait your turn to be seated — No worries though, as the wait is often times well worth it.
Hey Montana folks — Do you still have a 4B's in your town? If you do, tell us about it in the comments below.
Notes:
Town Pump Adds to Its Portfolio
Town Pump, headquartered in Butte, Montana was founded in 1953, and stepped up to help keep the 4B's brand (headquartered in Missoula, Montana founded in 1947) alive into the future.
The restaurant at the Prime Time casino in Great Falls, which was operated by 4Bs, closed on May 5 2007. The stand-alone 4B's location at 4610 10th Ave S here in town remained open and has continued to operate to this day
Montanans helping Montanans