Having been a part of the original Great Falls town site, I'm pretty sure that this old house has seen some days.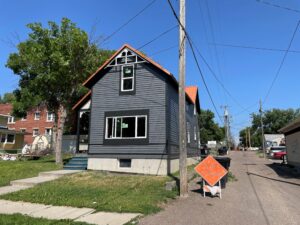 The house was built back in 1890 and I guess that makes it 133 years old this year. This house was pretty small according to 1890 standards, so it's history may not be as exciting as the original rectory that was the first house built on the same block back in 1889. Even still, it's a great little house.
According to some of the neighborhood old-timers, this house nearly fell into the alley because it's original foundation was failing. Somewhere back in the mid 00's or late 90's someone came along and put a brand new basement foundation under it and it saved the house from tipping over.
As far as houses go, this thing is a structural rock. Rough cut 2×4's and 6×8's, along with lath and plaster, were the order of the day back then that defined the quality and workmanship that we've somehow managed to lose over the years. I've worked on houses in Fox Farm that were built in the 70's and none of them could even remotely come close to how well this house was built.
We put the roof on and painted the exterior per the owners direction, and now it's back to the interior.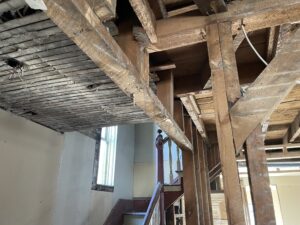 This thing has a staircase complete with the original banister/railing that is fully in tact with the exception of just one spindle and I'm hoping that for the sake of antiquity, we can save it by getting it grandfathered in.
I guess that back in the day they had a doorway for every room in the house. A doorway for the kitchen, a doorway for the living room, a doorway to the family room and so on and so forth.
We were able to eliminate some doorways in the house in order to open up the living space by way of installing Glulam beams.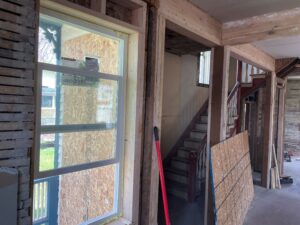 A Glulam is a stress-rated engineered wood beam composed of wood laminations, or "lams", that are bonded together with durable, moisture-resistant adhesives.
Even though the house was built like a brick, at the end of the day, the Glulam installation will add even more strength to the existing build.
When I first saw this place last year, it was a mess. Someone had gone in and tried to fix it up by doing interior demo while at the same time trying to install new drywall. Some rooms had drywall over the top of plaster and some rooms didn't.
This might have been fine on it's own of course, but the way it was done would have greatly hampered interior door installation. As an added bonus, all of the drywall that had been installed had 4 corner joints. Installing drywall properly means that the joints need to be staggered.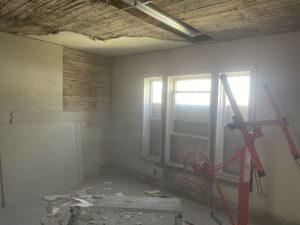 Long story short, we removed all of the installed drywall and then removed what was left of the plaster, and then reinstalled a small portion of the previous drywall correctly and added our own new undamaged drywall.
As a result, the walls and ceilings are straight and interior door installation will be a breeze. We also installed new gas filled double-paned windows to go along with the existing 10 in thick walls.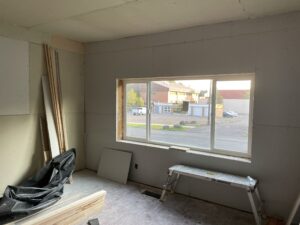 Opening up the main living spaces allows the light to come in and gives it the appearance of having more square footage than it all actually has. It will all probably save a ton of money on the light bill too — who knows?
As far as windows go, trying to stay with the original window sizes can be a bit of a challenge. Though most were able to be replaced along some original specs, there were a few that we found ourselves getting somewhat creative with. I think we came up with some of the best solutions involving some of the windows that didn't directly interfere with the original lines of the house itself. If anything at all, what we came up with probably did more to add to the original character of the house than anything.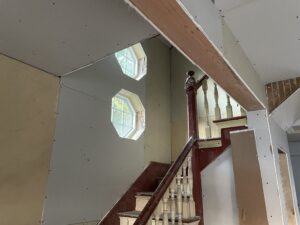 I love working on these old houses. Keeping things the same is a part of what makes this whole thing so much fun. You can streamline a structure without having to compromise any of the intended core build.
Being since this place has sat empty for years, aside from the occasional hobo and flocks of pigeons, nothing has really been done to it and the neighbors are just thrilled that something is finally being done to bring this place back to life.
I can't count how many people have stopped by wondering if this place is for sale. Unfortunately for some, the house isn't for sale and I'm not real sure just what plans the owner has for it. All I can say is that the chances are very good that it won't be a rental, and if the owner decides at some point in the future to sell, well, then whoever does buy it will be getting a brand new house that was built clear back in 1890.
Over all of the years of my doing this kind of work I've somehow managed to come up with some fairly creative names for some of the projects I've been on. If a house is extraordinary enough in some fashion so as to leave an impression, I'll give it a name so that my peers in the industry will know just which house I'm talking about.
For instance — There's a house out at Big Bend that I might 'infectionately' refer to as the Missoula house (the back story on that one is hilarious but I don't have time to get in to all of that in this post). Then of course, we've got the Optimus Prime house over in Belt.
This house is my Halloween house. In the future, a few years from now, whenever I mention the Halloween house, all of my peers in the industry will know exactly just which house I'm talking about.
It's really a beautiful house and I'm pretty stoked about being involved with it. Houses like this don't come along every day so I'm pretty grateful to be in on this one.