Well here we are, it's the middle of June in the middle of 2023 and Cookiesandcowpies.com just keeps plugging right along.
I often times find myself providing bi-annual reports for managed client sites on our servers this time of year and this time I sorta thought … what the heck … I'll do a bit of selfless promotion with regard to this site.
I thought I'd show off some numbers too — You know, of how busy this small back woods website might really be — So here they are: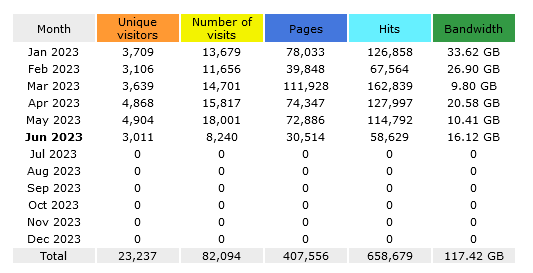 These numbers are actually pretty small when you stack them up against some of my other sites, and even other sites I manage, but they are great when you look at just how small Cookies and Cowpies actually is by comparison.
I moved the blog off of the WordPress platform back in 2011 because the service was just so limited. I couldn't self host videos and it was tough to get guest postings.
As it is now, I have one full time author and several others that venture in to provide a guest post on occasion.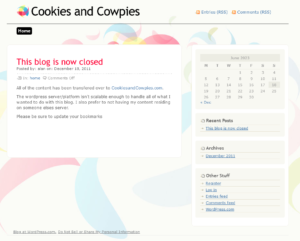 I like that Cookies and Cowpies just sort of wanders all over the board. I also like that it doesn't have any kind of square footing on politics like so many other blogs these days have.
It's sort of an off-the-cuff blog that doesn't land in any one single place for very long.
One of these days I'm going to have to sit down and pull up all of the posts from 2006-2009 and see what goes. I kind of think it would be fun to look at just how much has changed over all of those years.
At any rate, I'm somewhat surprised at the numbers so far for 2023 as far as the stats are concerned, and I think I've got all of you guys to thank for that.
Thank you all for popping in on occasion for a look.