Raye Montague, a brilliant African American woman and an American naval engineer, was credited with creating the first computer-generated rough draft of a U.S. naval ship design. She further distinguished herself as the Navy's first Program Manager of Ships (PMS-309) for Naval Sea Systems Command's Information Systems Improvement Program.
Despite facing the blind eye of racism and sexism like many other people of color, not only did she shatter glass ceilings—she broke straight through them. While dealing with overwhelming roadblocks, she succeeded in the U.S. Navy civilian workforce and later became an internationally-known, registered professional engineer.
In her own words: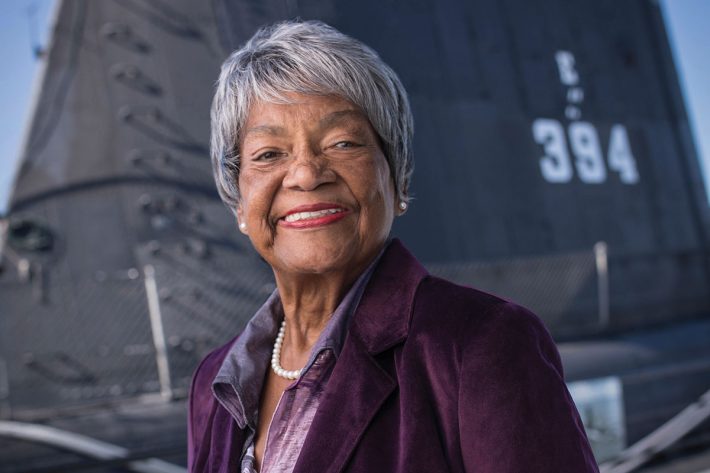 Ms. Montague was born in Little Rock, Arkansas, on Jan. 21, 1935. Her desire to study engineering started at the age of seven, when she visited a museum with her grandfather and saw captured German ships.
Even though she wanted to study in engineering, colleges in Arkansas would not allow African Americans or anyone of color to pursue the degree at the time. Although she decided to major in business, in the back of her mind, she always remembered something her mother told her: "You can do anything you want to do and be anything you want to be." She sought out to do just that.
Ms. Montague began her career as a digital computer system operator in 1956 at the David Taylor Model Basin. During her 30-years of service, she focused on making the job she loved better, and leaders recognized it. As a result of her achievements she soared from a GS-3 to a GS-15. She quickly became known for her engineering skills and her top secret weapon: her photographic memory.
Ms. Montague revolutionized the way Navy ships and submarines were designed by computers, becoming best known for her work during the time of the Vietnam War, when President Richard Nixon gave the Navy two months to come up with a ship design.
Although Ms. Montague's supervisor only gave her one month to draft the specifications, she gladly took on the task and produced a design in only 18 hours and 26 minutes (at the time, it typically took division workforces or groups somewhere around two years to deliver a design for a ship).
The design Raye Montague came up with went on to become the lead ship of the Oliver Hazard Perry class of guided-missile frigates—USS Oliver Hazard Perry (FFG 7). The Oliver Hazard Perry frigates replaced WWII's destroyers and complemented 1960s Knox-class frigates.
Raye Montague received many honors throughout her career.
In 1972, she was awarded the USN Meritorious Civilian Service Award for outstanding civilian achievements.
In 1978, she became the first female professional engineer to receive the Society of Manufacturing Engineers Achievement Award.
In 1988, she received the National Computer Graphics Association Award for the Advancement of Computer Graphics.
The Naval Sea Systems Command honored Ms. Montague as its own "hidden figure" in 2017.
Raye Montague was inducted into the Arkansas Women's Hall of Fame in 2018.
She remained active with her sorority, Alpha Kappa Alpha, and attended events with her chapter, Beta Pi Omega. Ms. Montague continued to take part in many civic organizations until passing to her final resting place in Little Rock, Arkansas, on Oct. 22, 2018.
Raye Montague demonstrates that women can excel in STEM. She also proves the importance of staying focused on your dreams. Her outstanding career and contributions show that diversity makes the Navy stronger and that your origin is not an indicator of your ability to succeed. Thank you Ms. Montague for standing the Watch.
Sourced:
https://www.maritime-executive.com/article/raye-montague-naval-engineering-pioneer-passes-at-83
https://abcnews.go.com/Entertainment/meet-woman-broke-barriers-hidden-figure-us-navy/story?id=45566924
https://www.smithsonianmag.com/smart-news/raye-montague-barrier-breaking-naval-ship-designer-has-died-83-180970608/
https://www.navsea.navy.mil/Media/News/Article/1156653/when-the-chips-fall-be-ready-take-charge-navys-hidden-figure-advises-audience/