Ingredients:
Pastry:
3 cups flour
1/2 -1 tsp. salt
1 1/4 cups lard or shortening
3/4 cup very cold water
Measure flour and salt.
Cut in lard until dough resembles small peas.
Add water and divide into 6 equal parts.
Filling:
5 or 6 medium potatoes (red are best)
3 medium or 2 large yellow onions
parsley for flavoring
2 pounds of meat (loin tip, skirting or flank steak)
butter
salt and pepper
Directions:
Roll dough slightly oblong. Slice in layers on dough, first the potatoes, then the onions and last the meat (sliced or diced in thin strips). Bring pasty dough up from ends and crimp across the top. Making the pasty oblong eliminates the lump of dough on each end. Bake at 375° for about one hour. Brush a little milk on top while baking.
Note: Old-timers claim the pasty arrived in Butte, Montana along with the first housewives who followed their husbands into the mining camp. Long favored in the copper miner's lunch bucket, the pastry-wrapped meal was an ideal way for "Cousin Jeannie" to provide a hearty meal for the hard working "Cousin Jack." As the miner unwrapped his lunch, he would refer to the pasty as a "letter from 'ome." Its popularity spread quickly throughout the camp, and today the pasty is as much a part of Butte as the Berkeley Pit.
From the Butte Heritage Cookbook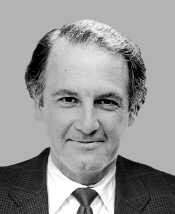 Pat Williams – US House of Representatives
In 1978 Williams ran a successful primary campaign against Dorothy Bradley to win the Democratic nomination for the 1st District of Montana. That November, Williams defeated Republican Jim Waltermire in one of Montana's largest door-to-door campaigns, winning 57% of the vote and gaining election to the 96th U.S. Congress.